Due to campus COVID-19 safety, we have temporarily reduced in-person pharmacy services. We are also adding extra precautions to ensure the health and wellbeing for you and our staff. We are closely following the recommendations issued by the CDC and from the university.
All new and refill prescriptions can be accessed and picked up by any of the two following methods:
Off-Campus Pharmacy: If you are a student staying off-campus you can: 
request your provider to have your new prescription sent electronically to your local pharmacy or
transfer your refill prescription(s) to your local pharmacy. 
What if I want to transfer a refill prescription from the SHS Pharmacy to another pharmacy in the U.S?  
Contact your local pharmacy where you want your prescription transferred.
Be ready to provide your personal information and your prescription information (prescription label), including the SHS Pharmacy phone number (415-338-1710), and the prescription number 
Your local pharmacy will then contact the SHS Pharmacy to make the transfer. (Note: Expired prescriptions and prescriptions with no refills cannot be transferred.)
On-Campus Pharmacy Pickup:  Students may request a refill online via your Student Health Services myHealth portal or by calling the Pharmacy at 415-338-1710.  Once you have requested the refill, our pharmacy staff will fill your prescription and text you when your prescription is ready.  When you arrive at the Student Health, inform the front door staff that you are here for the pharmacy. 
Pharmacy pick-up time is between Monday-Thursday 9am - 4pm and Friday 9am - 12pm and 1pm - 4pm.
If you need any over-the-counter items listed on our website, please let the pharmacy staff know at the same time when you call in to request your refills.
Charges and copays will be charged to your bursar student account.
You will need to have a form of ID with you when you pick up – student IDs is the preferred form of ID.
*** If you are having someone else pick up your prescription, you will need to call us ahead of time to tell us who that person is, and that person will have to have their own form of ID with them at pickup. We have opened up additional phone lines for you. If you are trying to reach our pharmacy staff, please call 415-338-1710 or 415-338-1251. ***
Over-The-Counter Medications
We strive to provide you with affordable options and friendly consultation to help you decide which over-the-counter (OTC) medication will fit your needs. See what medications our pharmacy has to offer. Call to place an OTC order for pickup.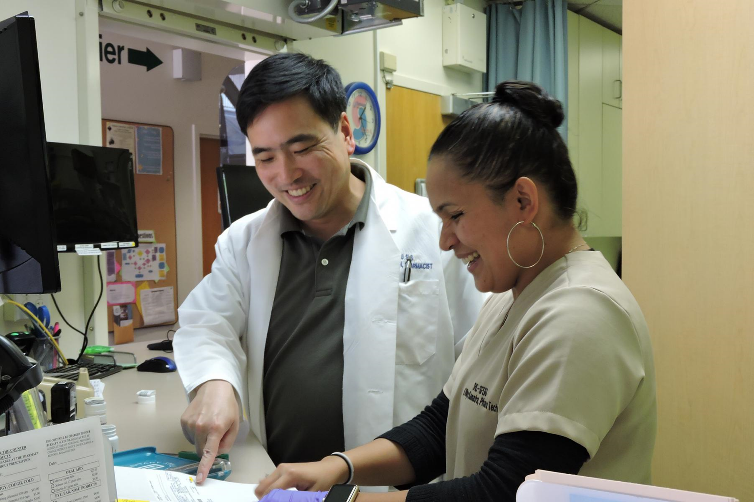 Pharmacy Hours & Contact
* Monday - Tuesday:  8:30am - 4:45pm
* Wednesday:  10:00am - 4:45pm
* Thursday:  8:30am - 4:45pm
   Friday:  8:30am - 12:00pm & 1:00pm - 4:45pm
Closed on Saturday and Sunday
* When only one pharmacist is on duty, pharmacy may be closed 60 minutes between 12:00pm - 1:15pm.
Phone: (415) 338-1710